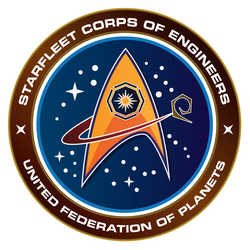 "Mutando Conservamus"
---
The T'varo Project - R.R.W. Llaihr Mh'Aerrh
---
Engineers, builders, artisans and other officers of the Federation,
We of Deepspace 13 have being given quite the honor recently. As the Commander of the R.R.W Llaihr Mh'aerrh has asked us to work on the ship and restore it to it's natural beauty and designs. Now, this is quite special for us all down at the fleetyards. Most of these ships have been long gone and the artistic designs and patterns of the vessel are highly sophisticated. One might argue they are superior to the design of our own vessels. Then again, art doesn't win wars.
Now, as your Chief Engineer I can give you all the pleasure and fun of working on it yourself. Before you get all jumpy and trying to get on this project, a lot of experience is required. We'd prefer if you knew about Romulan technology or if you have experience with restoration of artistic building so that we can speed up the process.
This process will happen in some steps, you are all free to join at any step, but it is prefered that you help from the beginning so that all ideas can be properly implemented.
Currently we have a number of contacts that we request to reach us. These people are.
Subcommander Davin Mandukar
Subcommander Divan Mandukar
Lieutenant Lir Callahan
Centurion Aihkhifv I-Ramnau tr'Maekh
Centurion S'Tokkr
Ensign Agnieszka
However this list is requested to join us, anyone can attach a request onto this message and help us brainstorm about ideas and ways to implement modern technologies as well as restoring the old artistic views of the people who designed this beautiful vessel. Feel free to sign up below.
Once a couple of people have signed up, we will do a preliminary search and test of systems that need to be repaired, after that repairing will start. For any questions you can contact either myself or Commander Rellir t'Lahihtrha.
Regards,
---
Commander R. Brot'la
Chief Engineer DS13
Starfleet Advanced Technologies
Deep Space 13 - 38th Fleet 'Argo'


---
[ooc: this is a project by rellir. we'll do a session or two on the ship to check what needs to be fixed and then a couple gm'd sessions with rellir herself to repair it. anyone is free to join, just be ready for a bit of tech speak.]