U.S.S. Erinyes
Battlecruiser
Starfleet Registry NCC-93304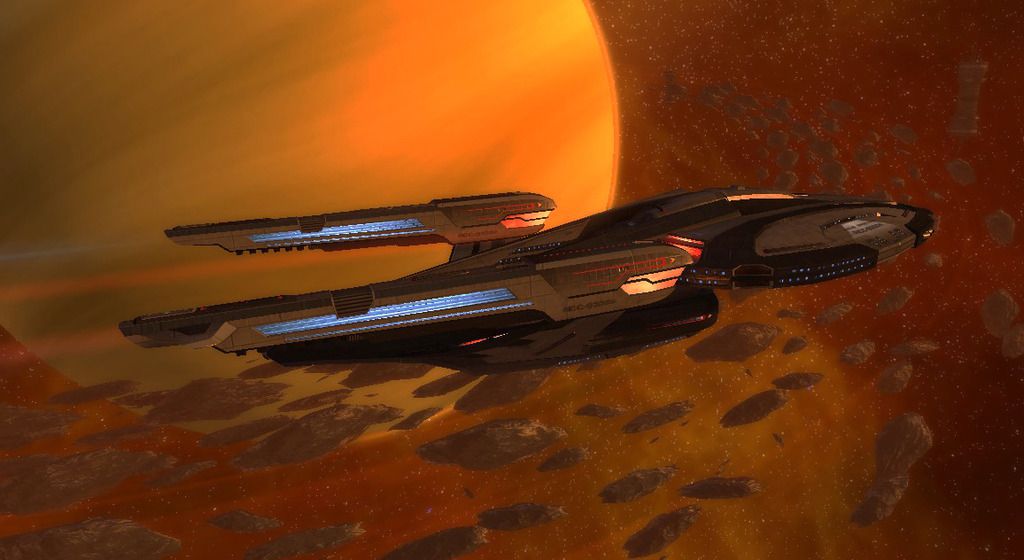 The U.S.S. Erinyes was initially launched on stardate 84204 as a heavily armed battlecruiser, designed to defend Federation shipping and to undergo long-range combat missions in enemy territory. The ship saw considerable conflict during the Klingon and Dominon campaigns and was present during the first portion of the defence of Federation space from the Borg. However, all contact with the ship was lost on stardate 86791. Subsequent investigation found that the ship had been ambushed and boarded by 4 Klingon Birds of Prey while escorting a civilian refugee transport from Federation border worlds and was lost with all hands. The ship, mostly intact, continued to drift through deep space without a crew and with the specific location lost.
By chance on 90942, the ship was rediscovered by a merchant fleet who boarded the ship, reactivated its systems and limped it back to Deep Space K7. From here, it was transported to Utopia Planitia for a full refit and refurbishment.
The ship was formally relaunched on 92498 with significant upgrades to armour, weapons, sensors and the addition of a cloaking device. The Erinyes is assigned to 38th Argo as a patrol, pirate hunter and combat operations cruiser under the Command of newly-minted Captain Ashleigh Delanno.
Current Senior Staff
CAPTAIN





CAPTAIN


Delanno, Ashleigh

FIRST OFFICER





COMMANDER


Derulo, Jetty

CHIEF MEDICAL OFFICER





COMMANDER


T'Vok, Paala

ENGINEERING





LIEUTENTNAT


Canfield, Dominick

SECURITY





Ensign


Riche, Phoebe

OPERATIONS





LIEUTENANT


Daran, Vekna

CHIEF SCIENCE OFFICER





LIEUTENANT COMMANDER


Ivis,Zasam

CHIEF TACTICAL OFFICER





COMMANDER


T'Pelo, Silot
Spoiler: Dedication Plaque
Show
(source template made by FuryofaSeraph: bit.ly/qxr8RA)