Troubles and Tribulations
Stardate:
99001.7
Directed By:
@Maikull
Location:
Qul Cha'bIp, in Orbit of Qo'noS
Becca could hear it coming off of the Turbolift; the obnoxious tones of Talarian 'Alba Ra' music blasting in the engineering section of the ship again. Gormesh was full of idiosyncrasies that drew ire from the crew, yet there was a strange method to his madness. The music for example was set to have the tempo match the harmonic frequency of the warp core. Love it or hate it, one would become so accustom to the music it would become background noise, and from there the engineers would instinctively tell if something was wrong with the warp core just by its sound being off key with the music. As vexing as the Nausicaan was he knew what he was doing.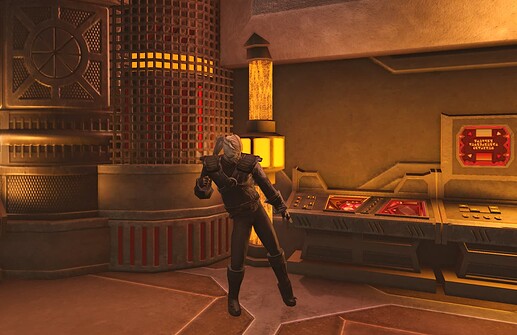 Turning around one of the support structures of the Warp Core itself, Becca found the Chief Engineer in the corner performing a cringe-worthy dance by himself; completely off beat with the current tunes and oblivious to his surroundings. No matter how smart he was, it still didn't change the fact he was weird as hell. "HAY FANGFACE!" The Orion shouted over the music, causing several engineers to turn to look in their direction.
Gormesh stopped mid pirouette and snapped his head around so fast his neck popped, looking dead at the Orion Science Officer, "YEeeeeeEEesss?" Such theatrics might offput the new kids, but Becca was use it by now and only rolled her eyes at him. "There is a shipment of Transwarp Coils that came in." She stated flatly, pointing her finger outwards to the exit of Engineering, indicating the items in their Cargo Hold. His face went from a bemused glance to a menacing scowl, "Who the F**K Authorized That?!" he snarled, his chest puffing as he took a threatening step towards the girl. Still not phased by his bi-polar nature, she continued to point, "Captain's Direct Orders."
Once again the Nausicaan's mood/facial expressions did a prompt 180 to a more friendly/relaxed look. "Oh, That's fine then. Wonder what we need them for?" he asked. Though as if to answer his question, the ships main announcement system bellowed over the music and noise of engineering:
meH yaS ja' noH pa' chach qep
"Looks like were about to find out" Becca shrugs, turning heel to head back to the Turbolift. The two travel in silence, stopping only on deck 3 where Kronq joins them hesitantly. Despite working together the last four months, the kid was still nervous around Becca, which made her giggle some. As much as she wanted to perform more turbolift hijinks, Gormesh's presence prevented that. As crazy as she was to threaten releasing the emergency clamps, Gormesh was crazier to actually do it without hesitation.
At the turbolift reached Deck 1, Kronq darted out, with the other two in tow. The war room was settled behind the bridge, across from the Captains Office. The Captain, First Officer, and Thra'ssk were already standing by waiting as the other three took their positions around a large holographic display.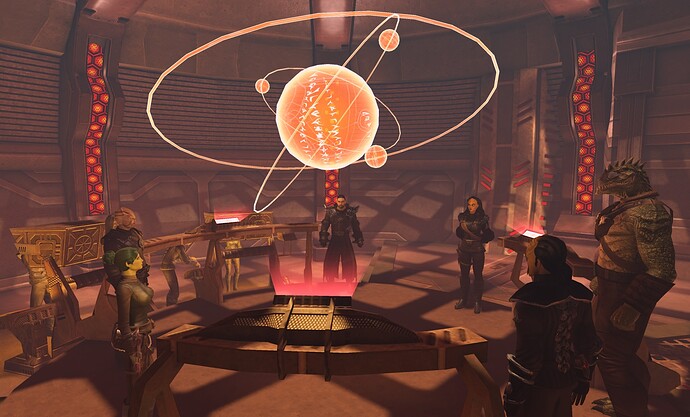 Wasting no time, the Captain began the meeting. "Four months ago, just before we joined Task Force Hurq Mevik, they operated out of the Zenas Expanse, far in the Alpha Quadrant under the distinction 'Zenas Privateers'."
"That's where I keep hearing ZP from…" Gormesh muttered to himself.
"They operated out of Starbase 151 'Charming Hope' and were given three months to transfer all Task Force assets from 151 to Starbase tlhIvqu' that we operate out of now. Given the Federations Mirror War, that timeframe was push back some. Records indicated that the last remaining assets were transferred aboard a Tuffli Freighter S.S. Sodor 16 hours ago. 2 Hours ago it sent out an automated distress signal, then command lost contact."
"Our orders are as follows. Utilize the Trans Warp Gateway at Ganalda Station, head straight for the Shahr System and find any sign of the Sodor. If its in-tact, assess whatever damages and escort her back. If its destroyed, find out who did it, kick their ass, and recover any assets we can. V'ecna will be leading this mission; I have business to attend to on Qo'noS, and will be taking Becca with me."
The last few words sent a flutter of looks among the gathered crew. "If there are no questions, your dismissed. Becca, prep the Chariot." He finished up, turning to head to his office. Becca glanced to V'ecna for clarification, with the First officer only shrugging in confusion, and motioning for her to go and follow her orders. As the group dispersed to their stations, V'ecna entered Roh'Khan's office.
"Is everything ok?" She asked cautiously. Roh'Khan gave a deep sigh as he added more belongings to a travel case, "No…Matron's youngest has died. Were all being recalled to the manner." V'ecna placed her hand over her mouth in shock, "I'm so sorry…"
"Its fine. I was going to bring you along, but this mission takes precedence. I just need Becca there to snoop around some." He further explained. "Well don't worry about us, We will take care of this and come right back. Give my love to Matron Terrath. QaD parmaq "
[To be Continued]