Back in The Saddle: Prolog
Location:
Deep Space 13 Fleet Station; Aldebaran Sector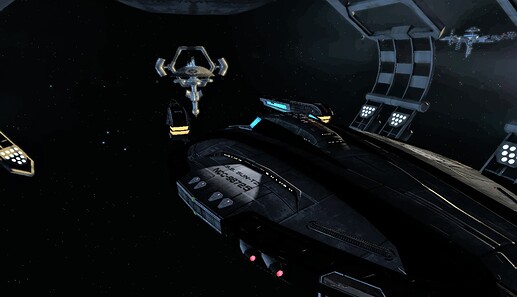 USS Sun Tzu has returned to DS13 after heavy patrolling through the Federation-Klingon boarder, ensuring that the "aftermath" remains out of Federation Space. With the exception of a few scraps, the ship and crew have all made it out well enough and look forward to getting back to their normal post-war schedules. The Senior Staff had convened in the Briefing Room to review and go over new orders.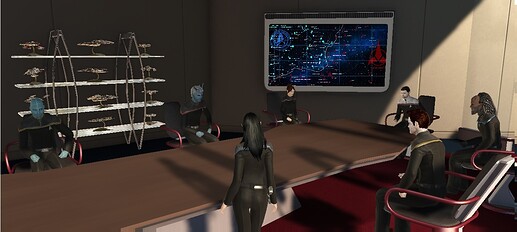 [LCDR] V'era::"The Placement of L'Rell as Chancellor, instead of J'Ula, shines hope that we won't see much of the old hostilities of the Mo'Kai house against the federation. Especially with Former Chancellor Martok as an advisor."
[CMDR] Roptojmey: Grunts "Even so, Mo'Kai's malice will focus on the houses and races that opposed them before they turn their attention to the Federation."
[LCDR] Zach Brannigan:"The Nausicans, Letheans, and Ferasans who remained loyal to J'mpok are going to face the brunt of that wrath…Thankfully the Orion's flipped sides."
[CMDR] Roptojmey:"The Empire will deal with them the same as they have delt with others, have the leadership killed and loyalists placed in charge."
[LCDR] 3 of 14 (Pi) : "There is still the matter of all the refugees, and the massive humanitarian aid concerns they will have to deal with."
[CMDR] Jessie Stern:"Thankfully that's a diplomatic corps nightmare, not ours."
[CMDR] Maikull Barron: "Right. Look, I know things have been very tense during the Klingon Civil War, especially with us skirting the boarders and patrolling Hot Zones. So, before we go off on a well-deserved shore-leave…"
[LCDR] Zach Brannigan: whispers in a hushed voice "Risa here we come!"
[CMDR] Maikull Barron:"…I've decided to take us out on a simple survey mission. My hope is that this will help the crew decompress from the Civil War, so the lingering thoughts aren't bogging them down while on their on the beach trying to relax."
[LCDR] V'era::"What system are we surveying? I mean depending on where it is, that could take weeks to–"
[CMDR] Maikull Barron:holds up his hand to cut the young science officer off "Not to worry, this is a wrap up survey mission of the Zhen Xiu system. The Dallas was out there last and left a Level 3 Probe, and I think there are some geological samples of the asteroid belt that still need to be taken, we can requisition what we need from Fleet Command before we disembark.
[LCDR] 3 of 14 (Pi) : "Pardon my bluntness, but that does not sound like something that would fall under our Squadron's Duties."
[LCDR] V'era:: "You hush, Buzzkill!" She hissed from across the table
[CMDR] Jessie Stern: "You are correct Pi, which is why on the way there, we will be stopping in and checking on a Federation Relay station in a roughly uncharted sector of the Kelterre Sector.
[CMDR] Maikull Barron: "A little bit before the Civil war tied our hands up, a fleet vessel had been dispatched to make repairs, and were attacked by a hostile Ferengi Vessel. Were just going to stop by and make sure everything's still running smoothly. And -SINCE- were already going to be on that side of space, we can wrap up the survey of the Zhen Xiu System, give the crew a break from the perpetual red-alert status. I've already cleared it with Aries Squadron Lead, just need to reach out to Captain Timoreev of the Libra Squad just to make sure were not stepping on anyone's toes before we depart."
[LCDR] Zach Brannigan: "After that, Next Stop Risa! I already have my horga'hn polished and ready to go!"
There was a slight chuckle among the other officers at the table\
[CMDR] Jessie Stern: Vera, Southerland, and Doc will be assigned to the Survey Mission evaluating the scientific and engineering aspects needed for the mission. Doc, there was talk in the mission brief about possible radiation exposure so we will need a medical team evaluation on that front as well.
[CMDR] Maikull Barron: Pi, Brannigan, and Commander Stern will head the Patrol Mission of the Relay Station in TK-401. Crazy enough it was also the Dallas who was attacked out there, so Ill see if they have any sensor logs that can give us an idea of what to expect. Any questions?
The table fell silent with a few officers shaking their heads
[CMDR] Maikull Barron: "Alright then. Take use of what station time we have, and requisition what we need before we head out. There won't be a Drazona Stop between here and there." he snickered, which resulted in a few chuckles. "Dismissed!"
OOC (Back at it after 6 months. Given the time, ive decided to let go of my last story prompt [It had enough content as is] and start picking up new missions. Follow Up Communications to this topic Found: To: Timoreev | SUBJ: Survey Request )